Last week, following Apple's announcement that the new iPhone 7 wouldn't have a headphone jack, some clever chap made a video claiming a secret hack for adding a DIY jack to your brand-new phone by drilling a hole in it.
Seriously, he takes an iPhone, clamps it in a vice, and puts a hole in it with a 3.5mm drill bit. It's a very expensive bit of satire, but funny nonetheless.
Then, the YouTube comments started blowing up with users reporting that they had tried it with disastrous results.

Lots of comments come across as satirical responses, like Simon T's comment above. But some of them are frighteningly serious.


Of course, news outlets are having a heyday with the comments, warning their readers against drilling into their phones and reporting about voided warranties and gullible YouTubers. Even Fortune got in on the action.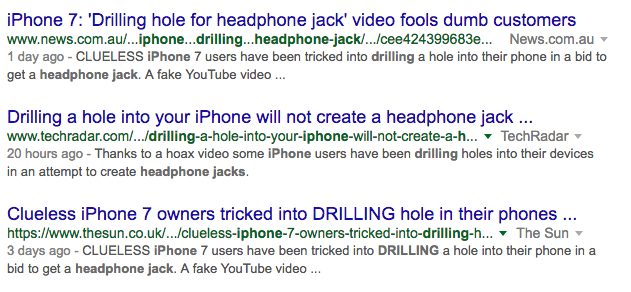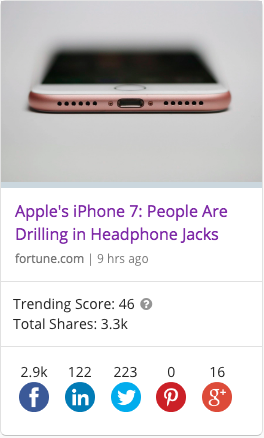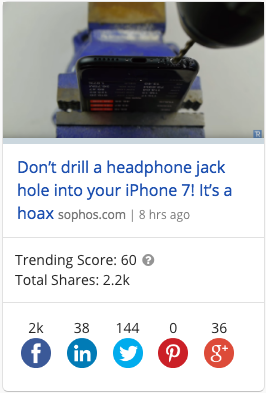 122 shares on LinkedIn? I didn't know there were that many people using it.
But are there real, live people falling for this and drilling holes in their brand-new iPhones? It's fun to believe that people would be that stupid, but that doesn't necessarily mean that it has happened. After reading through the top trending stories with headlines like "Drilling hole in iPhone video fools dumb customers" and "People Are Drilling In Headphone Jacks" (thanks Fortune), I found no actual reports of individual incidents; only references to comments on the YouTube video. Someone has been trolled here… and I'm not entirely sure who it was.
If you really drilled a hole in your iPhone, let me know. For security purposes, don't send it over the internet; just set your house on fire and use the smoke to signal me.
Here's the original video:
---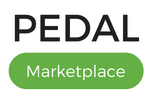 This post brought to you by the
Pedal Marketplace
, where you can (seriously) hire me to write a blog post for your business.
Interested? Visit pedalwebsites.com/marketplace