August 2018 update: I've created a video version of this article over at Labtorio: Housecall Pro and Zapier
Zapier is an automation service that acts as a bridge between web applications. It allows you to send data from one application to another, which opens up a whole world of possibilities.
Before Zapier, the only way to use any of your Housecall data outside your Housecall Pro account was to manually export it into a CSV file and manually import it into the other software.
Integration with Zapier changes all that. Soon you'll be able to link Housecall Pro with hundreds of other apps, and automatically perform incredible feats of marketing skill.
Pros can't connect Zapier to HCP yet. Zapier integration is currently in alpha mode, being tested by a few HCP partners. When the beta version is released, the HCP team will let us know – and I'll be here to answer your questions.
How to connect Housecall Pro to Zapier
You can connect Housecall Pro with a Zapier-friendly app in just a few minutes. I've outlined the process for connecting Mailchimp below.
Set up your trigger
Log into your Zapier account and visit the Integrations page while the Housecall Pro – Zapier integration is in alpha, the HCP team will need to grant you access.
Click the Make a Zap! button.
When asked to choose a trigger app, search for "Housecall Pro".

Housecall Pro only has one trigger, the New Completed Job, so just click Save + Continue.
If this is your first time setting up a Zap with Housecall Pro, you'll need to connect your account.
Click "Connect an Account"
Paste the API key that the HCP team gave you
Click "Yes, Continue"
Once you've connected your account, click "Save + Continue".
The next screen will have you test the trigger to make sure it's working properly. Make sure there's a recently-completed job in your Housecall Pro account, then click "Fetch + Continue".
If the test succeeds, you'll be able to view your completed job and see what Zapier received from Housecall Pro. We'll use this info in the next step to perform an action.
Click "Continue".
Set up your action
Now that Housecall Pro is connected to Zapier, you'll need to set up your action.
Search for "Mailchimp". (If you're using a different email provider, this is where you would search for that one instead.)
Select "Add/Update Subscriber" and click "Save + Continue".
If this is your first time using Mailchimp with Zapier, you'll need to set up your account. Click "Connect an Account" and enter your login info. Zapier will automatically connect the account. When you're done here, click "Save + Continue".
Now it's time to show Zapier where the Housecall Pro information will go in Mailchimp.
In the List field, choose the Mailchimp list where you'll add your subscribers.
In the Subscriber Email field, click the icon to the right, then select "Customer Email" from the dropdown list.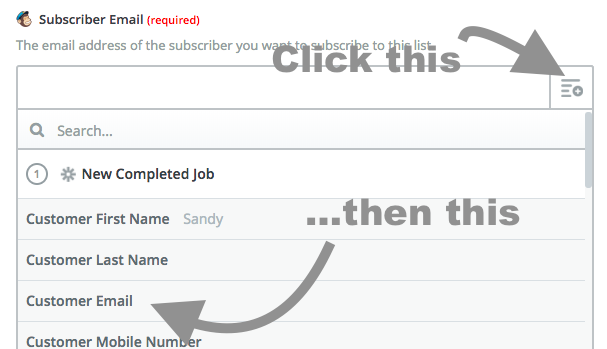 The next box, Double Opt-In, determines whether you send an email to confirm their subscription. Depending on how you ask for emails and what your customers expect from you, you may choose "yes" or "no".
Since you may have multiple jobs for the same customer, set the Update Existing option to "yes".
For this particular action, we'll skip the Replace Groups and Groups options. Click "Continue".
You have the option to send a test to Mailchimp to make sure the Zap is working correctly. If everything is set up right, you should see a test subscriber in your Mailchimp account.
Click "Finish".
Your Zap is complete! If you're ready for this Zap to run automatically, click the switch to turn it on.
Recommended integrations
Here are some other ways you can use the Zapier integration:
Populate business reports in Google Sheets
Send text messages to customers with TextMagic
Set yourself follow-up reminders in Google Calendar
Send a customer satisfaction survey through SurveyMonkey
You can set up the Housecall Pro / Mailchimp integration using a free Zapier account, but some of the more advanced techniques will require a paid account.
I'm building a collection of Housecall Pro Zaps to document just how much you can do with the Zapier integration. If you've built a Zap that should be added to the collection, send me an email and I'll add it to the list (and credit you, of course).
---
Did you like this introductory guide to using Zapier with Housecall Pro? I'm writing an Advanced Guide to Marketing in Housecall Pro, and it's got all of the Zapier integrations your heart desires! Put your email below if you want to be notified when it arrives…