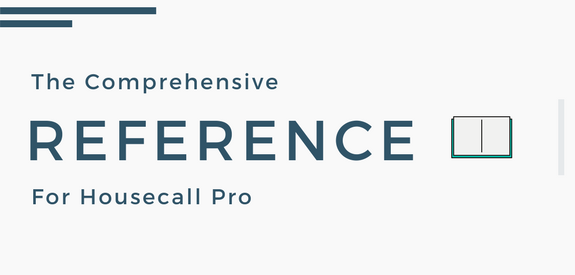 This page is no longer updated. Instead, check out my new Housecall Pro reference at Labtorio.com!
---
Last updated August 20, 2018
For a field service business, Housecall Pro can be a game-changer. There's a lot to the software, and it can be easy to feel lost or confused. If you do, don't worry – you're not the first. Luckily, there are a lot of answers available if you know where to look.
This page is my collection of the main topics I've seen come up. If you have a question about HCP and there's an answer, it's probably here.
Resources
Looking to learn something about Housecall Pro? Check these resources.
Want to learn how to make HCP work towards your business goals? I'm working on The Advanced Guide to Marketing in Housecall Pro. Learn about the Advanced Guide
Frequently Asked Questions
I've combed through the conversations in the Housecall Pros Facebook group and pulled out the questions, common and uncommon. Then I hooked you up with answers. If it's not here, ask in the Blue Chat Bubble or the Facebook group.
Membership
How do I become Pro Of The Day?
Send a private message to Jonathan O'Brien to be added to the selection pool. If selected, the Housecall Pro team will optimize your online booking page and mention you in a post in the Facebook group.
What is a a Superpro?
Superpros are Housecall Pro users who have filled out an application and been approved.
Superpro benefits include:
Advance access to Labs in the App Store
A Superpro badge to display on your website
Get added to the Superpro map in HCP headquarters
How do I become a Superpro?
Fill out the Superpro application!
How do I become an Elite Superpro?
You have to be a Superpro first (fill out the application here).
What are the levels of Superpro?
The levels of pros are listed below.
Pro
Superpro
Silver Elite Superpro
Gold Elite Superpro
Diamond Elite Superpro
Any Housecall Pro user is considered a Pro. To obtain Superpro status, fill out this application. Advancement up the Superpro levels is based on referrals of other pros to Housecall Pro.
Why are my credit card payments taking so long to process?
That's the way it works with card payments, apparently. For Superpros, HCP has enabled the beta version of Instapay, which can reduce the wait time to minutes instead of days. No word yet on when this will be available to all Pros.
Why did my tech not see a job I added recently?
Sometimes the mobile app fails to update for several hours. Closing and opening the app seems to fix the problem. To be safe, it's best to alert your techs to any same-day changes to the schedule.
Is there a way to send a mass email to my customers through Housecall Pro?
No. Emails are transactional only.
What is the BCB? / What is the Blue Chat Bubble?
The Blue Chat Bubble is the little blue icon you see in the corner of the desktop app. That allows you to chat with HCP support team. You can also access the BCB through the mobile app by clicking More > Help and Support.
Is there a Housecall Pro iPad app?
No. You can install the iPhone app, or use the web app on your iPad if needed.
Features & Suggestions
Is there an upcoming feature list somewhere that I can see?
No. The HCP team is very tight-lipped about what is in development and when it will be available. The product roadmap is only visible to HCP team members.
How do I vote for a feature?
Features are moved up the development timeline by how often they're requested. In order to have your request counted, be sure to submit your vote in the Blue Chat Bubble.
Will Housecall Pro connect to Zapier?
Not yet.
The HCP-Zapier integration is currently in alpha testing phase, which means a few select partners are using it and reporting bugs to the HCP team for improvement.
When the Zapier integration is released, I've got you covered with a guide to Zapier and Housecall Pro.
Will Housecall Pro connect with regular Quickbooks?
No. Essentially, the integration would require a lot of work, and the old Quickbooks versions are going to be phased out and unsupported soon anyways.
In the 1/24/18 Whiteboard Wednesday Roland and VP of Engineering Reza Olfat went into detail on this subject:
Roland: Will we ever integrate with Quickbooks Desktop?

Reza: Unlikely.

Roland: Why?

Reza: That's harder than offline mode.

Right now, we integrate with Quickbooks Online. When you do something in Housecall Pro, it gets pushed to Quickbooks Online.

Quickbooks Desktop is an application that sits on your computer. So, when you do a job on Housecall, Housecall somehow has to reach out to the version of Quickbooks that's running on your computer and pass that data to it. …there are dozens of versions [of] Quickbooks and Windows… so we basically have to write a dozen integrations instead of the one.

And then there's the issue of offline mode, like what happens if you're not running Quickbooks at the time. What to do if your computer is turned off. What if you turn it on and it's not online and your stuff's not there.

So basically, Quickbooks Desktop, we're just going to leave that one alone… don't use it.
Roland has mentioned in other live videos that Quickbooks themselves have indicated that Quickbooks Online is the direction they're headed. And as Roland points out later in that same Whiteboard Wednesday, the time and effort that they would put into Quickbooks Desktop integration can be better used on much more impactful features.
That's about as clear as it's going to get. Don't expect an integration with Quickbooks Desktop.
Can HCP send read receipts for invoices?
Yes. You can access this through the Activity Feed.
Are there direct links to online booking for specific services?
Not at this time.
When do notifications get sent?
When you take an action in the mobile app, or in the web app when you have left "Notify Customer" checked.
Is there a way for holidays to automatically be populated in HCP calendar?
Not at this time.
Can I search by invoice number?
Yes! Go to Dashboard > Jobs and use the search box in the top right corner. You can also search by address, phone number, name, customer notes, tags… try it!
This feature is only available on the web app.
How do I use a third-party email provider like MailChimp?
I'll show you in the Advanced Guide to Marketing with Housecall Pro.
How do I get HCP swag?
By becoming an Elite Superpro, by becoming a Superpro, or by being Pro of the Week on the Facebook group.
Does my online booking button count as a conversion for SEO purposes?
Roland says yes.
Should I use X payment processor? They called offering payments super cheap.
No. Marshall Robinson with HCP explains credit card processing in-depth in the May 16th Whiteboard Wednesday.
What's a good lead management app to use with HCP?
There are rumors of this functionality coming to Housecall Pro eventually, but for now Streak or Zoho are recommended by some pros.
Is there a way to track commission in HCP?
Not at this time.
Can customers decline options on an invoice?
No. Invoices can only be approved or denied.
Does HCP know how many clicks I get to Online Booking page?
No. You can track this yourself by creating an account with bit.ly and using a shortened link.
If customers reply to an automated email, where does it go?
It comes to the email address on your HCP account.
Can I print address labels from HCP?
No, you'll need to export the customers or copy and paste the information.
How do I see new customers in a given time period?
HCP doesn't show this info. My Advanced Guide to Housecall Pro will show you how to do it yourself using a spreadsheet.
How do I have customers sign contracts?
HCP does not have a contract feature. You can use a service like DocuSign to do this.
Is Housecall Pro down?
You can check by visiting downforeveryoneorjustme.com.
Can I save customer notes instead of job notes?
Yes; these are accessed in the Edit Customer view.
How do I my clients set up the Housecall app so that I'm their preferred contractor?
Have them download the app, then use the custom invite code in the menu. This will add you as their preferred contractor.
Does Housecall Pro give my customer information to competitors?
Roland's official answer to this question is an emphatic no.
There have been several posts in the Housecall PROs Facebook group about this. Most of the concern and confusion centers around the Housecall (not Pro) app, which is for consumers. Some Pros have logged in to the Housecall consumer-facing app and seen their competitors.
However, if set up correctly the app should show only your company to your customers, so long as:
They signed up with your invite code, or the email you have for them in Housecall Pro,
Your Instabook settings are configured properly.
Roland has stated several times that the HCP team is moving away from the Housecall app for consumers, and even suggested Pros turn it off.
Get Help
If you need support from the HCP team, these are your options:
Blue Chat Bubble should be your first stop for any Housecall Pro questions.
Email: support@housecallpro.com
Phone number: (877) 594-9778
And of course, the Housecall PROs Facebook group is always eager to help.