The tools I use to launch MVP websites in under an hour
Ever since I bought my first domain name, I've been using WordPress to build websites. Even after learning to code, I've continued to build and launch sites on WordPress.
At the beginning, I loved WordPress for starter sites because I could get professional results without writing code. I would search out the perfect theme and spend time filling out the widgets to make it look just like 'those other sites'.
Today I use WordPress because it's my most pragmatic choice. I can launch a WordPress site in 25 minutes, which lets me put time into the important part of the site: the content. Also, I know that if I need to extend the site, my options are virtually limitless.
In order to be able to launch a starter WordPress site quickly, I've developed a system for how I set up new projects. It's allowed me to reduce setup from weeks to minutes.
Theme
I've spent literal days searching through free and paid theme directories, trying to find the right theme for a site. It's incredibly hard to find something that's flexible and basic enough to make me happy. Instead, I hacked together my own WordPress theme that's nothing more than a blank page. I'm serious. It provides invisible structure for content and leaves out all of that other stuff that you probably don't need.
I've included this theme in the WP Starter Pack so that you can skip the fruitless searches and get started right away.
Plugins
Must-haves
Wordfence – the first plugin I install. Protects your site against hackers.
WordPress SEO by Yoast – A plugin to help you write content that's SEO-friendly and readable.
Gives you access to popups, pop-overs, and every other form of signup-related function you could dream of.
Shortcodes Ultimate – for newbies or lazy people like me who don't want to write code or find the perfect theme. SU lets me format my pages and add advanced features like galleries, buttons, and tabs.
[su_row][su_column size="1/2″]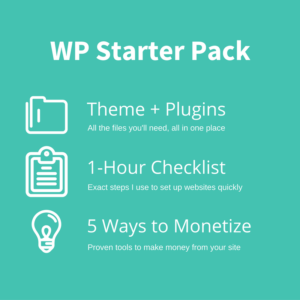 [/su_column][su_column size="1/2″ last="1″]
[/su_column][/su_row]